XO cellars are independently owned bottle shops supplying you with fine wine and boutique beers. You'll not find our brands stocked in big chains, we like to be a bit different and give you a unique experience. Our stock ranges from high end wines, spirits, ciders – and if you can't find what you are looking for, speak to one of our friendly staff and we will source it for you. All our staff are knowledgeable in wine, beers and spirits and regularly receive training from wineries and breweries to further their education. With over 700 wine lines – If you a social drinker or a wine buff, we cater for everyone. Pop by one of our cellars today and say hi.
– Friday 19th January (3:30pm – 5:30pm)
Hawkers Beer (new in store from Victoria)
– We have a very large range of Craft Beers in store – cans and stubbies
– 4 Pines & Stone & Wood beer gift boxes
– Magnums of Rose (perfect for Summer)
– Champagne gift boxes
Cotes de Provence (France) Rose' – including Magnums of the whole range for $49.99
Cage Roads Brewing Co beers from WA
Bollinger Special Curvee – $88
SOFI Spritz (4 packs | 250ml | 8% Alcohol)
All Australian and all natural (as seen on shark tank) modern twist on Italian cocktails!
3 flavours: Lemon & Elderflower/Blood Orange & Bitters/White Peach & Ginger
Seedlip distilled non-alcoholic spirit (700ml bottled in England)
2 flavours: Spice (wood/spice/citrus) & Garden (leaf/herb/pod)
Regal Rogue the worlds first quaffing vermouth (perfect for vermouth led classic cocktails | Australian)
2 flavours available: Bold Red (spice and dried fruit) & Wild Rose (tropical fruit and fruit spice)
Roses from Cotes de Provence, just in time for Spring
Chardonnays from Hunter /Margaret River & Adelaide
Sav Blancs from New Zealand / Adelaide & Tasmania
Pinot Griogio & Pinot Gris from NZ/Tas & Adelaide
Shiraz / Cab Sav from McLaren Vale/Barossa/Heathcote/ Coonawarra & Margaret River
Pinot Noir from NZ/ Tas & Victoria
Lots of imports, both white & red
Good range of aged wines in our vintec
Byron Bay Stone & Wood
Qld Newstead/ Bargara/ Balter & Fortitude Brewing
Adelaide's Prancing Pony/ Little Creatures
NSW Modus/ 4 Pines/ Stockade
Imports – Corona/Peroni/Stella/Becks/Asahi/Sappora
Erdinger Alcohol Free Beer
Wilde Gluten Free Beer
Fever Tree Club Mixers for premium spirits (4pk) – $10
Indian Tonic/Mediterranean/Sicilian Lemon
Ginger Beer
Club Soda
> Congratulations to Cayte Hehir – the WINNER of this awesome retro bike!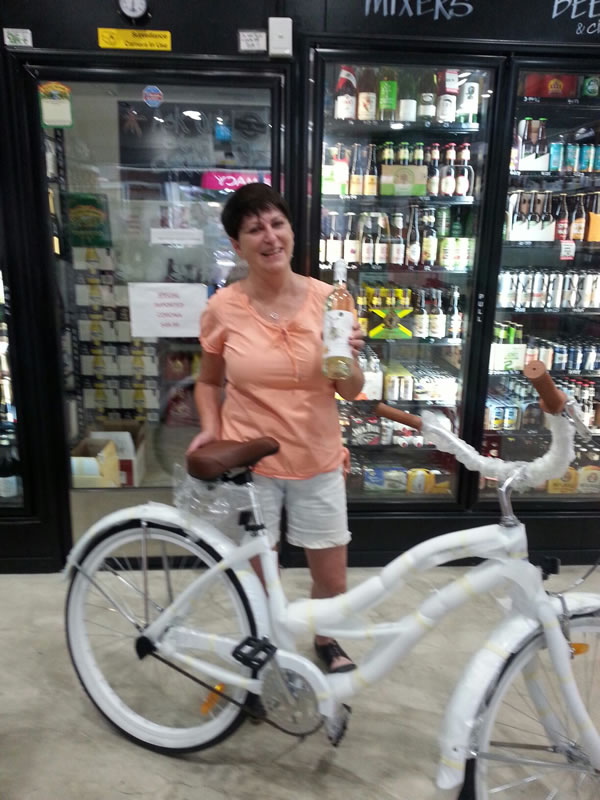 > Congratulations to Marie Le Bagge who won the massive 6L Ekhindna Shiraz!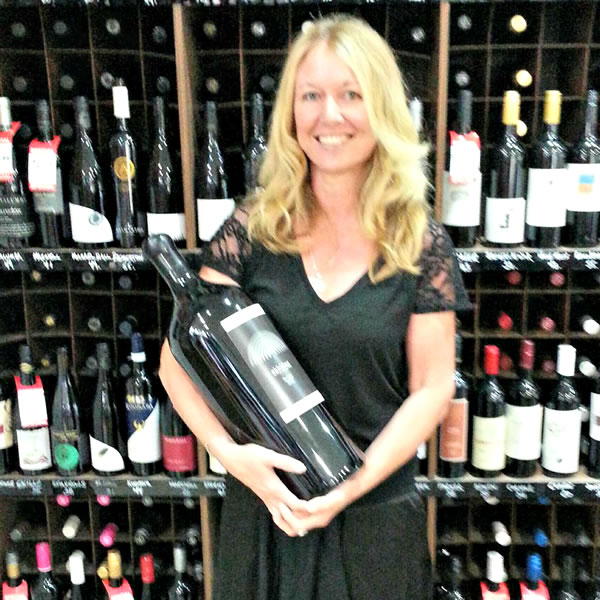 > Congratulations to Katherine and Matthew who won the Amadio Montepulciano magnum draw.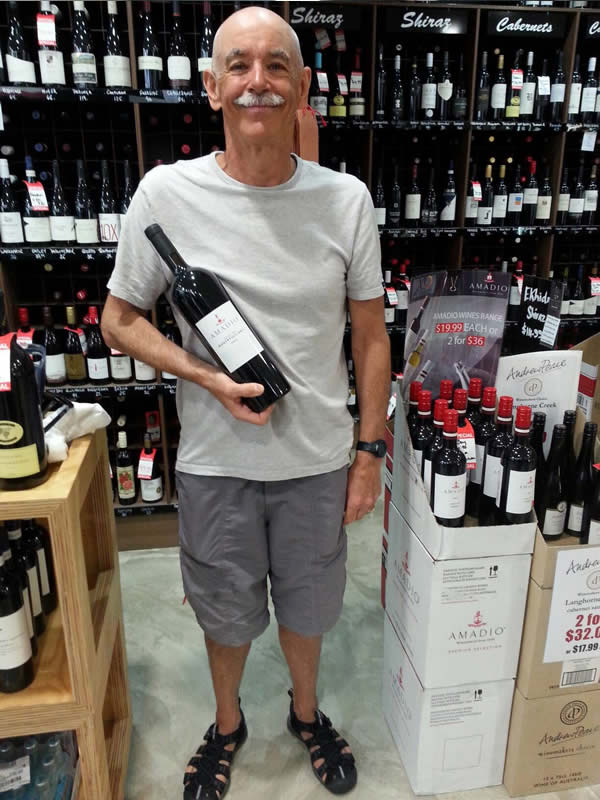 > The winner of the lucky door prize at our first Pop Up Wine Bar event was Kim (left), who took home this huge 6 litre bottle of Ekhidna Shiraz! Congratulations Kim!